Institute of Chinese Studies-Ananta Centre CHINA SYMPOSIA SERIES In collaboration with Symbiosis School of International Studies, Pune Whither China? Politics, Economy, Society and Education Background on the China Symposia
29th November, 2016
India and China are large and populous neighbours, with each country having a long history and a rich civilisational heritage. During the first millennium A.D., there was considerable trade and cultural interflow between the two civilisations, the legacies of which are to be found in the art, science, poetry and literature of the two countries. But today, this historical memory has faded, and modern Indians know very little about China. The discourse on China in the popular media tends to be both limited and polarised around the security and geopolitical issues on which there are divergent perspectives. At a time when both nations -- with a joint population of nearly 3 billion -- are powerful actors rising on the world stage, such mutual ignorance can lead--at best--to missed opportunities for common prosperity, and at worst, to conflict born out of misunderstanding and misapprehension. It is thus of vital importance to develop a broader and deeper multi-dimensional understanding of China within a broad range of opinion-leaders in India, particularly amongst the younger generation (and likewise in China).
"The China Symposia" developed jointly by the Institute of Chinese Studies, New Delhi and Ananta Centre, New Delhi, was launched in 2015 aiming to generate a broader and deeper multi-dimensional understanding of China. Consisting of a series of one and a half an hour long sessions spread over a period of six months followed by a Round Table discussion, the programme was designed to address key questions about China that arise amongst many of us, but are rarely discussed in depth. Panels of experts from both India and China were mobilized to initiate un-depth discussions, with the aim of both informing and providing new insights and also provoking general interest and curiosity in the themes selected. In the first season 2015-2016, the three symposia explored the dynamic regional and global context of India- China relations, and the changing Chinese domestic situation. The final session in this series critically analysed the future of bilateral economic relationship between Two Asian giants.
The upcoming session, in collaboration with the Symbiosis School of International Studies, Pune commencing on 29 November 2016, will look at the broader issues arising out of China's polity and economy along with its social structure and education strategy. The conference is titled as, "Whither China? Politics, Economy, Society and Education". Questions of identity and ethnicity in China, the evolution of society and politics in China and the impact of demography, education and finally the course of Chinese politics, its alternative "China Model" and its likely impact on the world would be the issues to be discussed in the conference.
Venue- Symbiosis School of International Studies, Pune
Session 1
3:00 - 3:10 PM
Welcome Remarks: Ms. Shivali Lavale Director, Symbiosis School of International Studies
3:10- 4:45 PM
CHINA: ECONOMY AND POLITICS, Moderator - Kishan Rana, Honorary Fellow, Institute of Chinese Studies
Presenters:

China in World Politics, Alka Acharya, Director and Senior Fellow, ICS
The Chinese Economy, Sridhar Venkiteswaran, Executive Director, Avalon Consulting and OC&C Strategy Consultants, India
How China Sees the World, Wenjuan Zhang, Associate Professor and Assistant Dean for International Collaborations of JindalGlobal Law School
Discussion

4:45- 5:00 PM
Coffee/Tea Break
Session 2
5:00-6:45 PM
CHINA: SOCIETY AND EDUCATION, Moderator- Dr. John Kurrien, Director Emeritus, Centre For Learning Resources, Pune
Presenters:

Change and Stability in Chinese Society, Ravi Bhoothalingam, Honorary Fellow, ICS
Education in China, Abhimanyu Singh, Former Director to office in Beijing and at present, International Consultant to UNESCO
The Party in Chinese Life, Wenjuan Zhang, Associate Professor and Assistant Dean for International Collaborations of Jindal Global Law School
Discussion

6:45 -7:00 PM
Conclusion and Vote of Thanks, Ms. Shivali Lavale Director, Symbiosis School of International Studies
CVs and Contact Details
Prior to joining the Symbiosis School of International Studies, Ms. Lawale, worked for over more than a decade at the United Nations Educational, Scientific Cultural Organisation (UNESCO) Headquarters in Paris, France. She has worked in the capacity of Programme Specialist on two of the UN's priority programmes in education and international development - Education for All and Education for Sustainable Development. These programmes covered a variety of contemporary issues like peace and conflict, human rights, climate change and gender issues, among others.
She has also taught the post-graduate programme in French studies at the University of Pune. Ms. Lawale has an M.Phil in International Cooperation in Education and Training from the Sorbonne University and an M.A. in International Relations from the prestigious Sciences Po, Paris. She also has an M.A. and M.Phil in French studies from Pondicherry University.
She has authored articles on education and sustainable development that have been published in international journals and publications and has presented papers at prestigious international conferences like the biennial International Conference on Education and Development, UK, and the Human Development and Capability Association (HDCA) annual conferences. She is also member of the HDCA, an association that was established in 2004 by Prof. Amartya Sen and Prof. Martha Nussbaum.
Session 2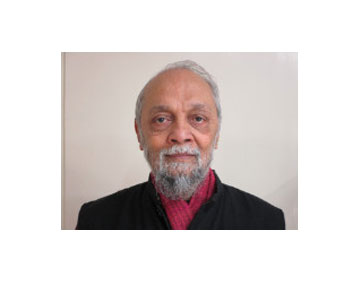 Dr. John Kurrien
Dr. John Kurrien, Director Emeritus, Centre For Learning Resources, received his doctorate in Educational Policy Studies from the University of Wisconsin, and taught at school and university level in the US. After returning and teaching at the Tata Institute of Social Sciences, Mumbai, he co-founded the Centre For Learning Resources, Pune which has worked since 1983 in the development and education of poor children in India. He has served on various national and international bodies and committees, and is currently working with Action for the Rights of the Child (ARC) and Pune City Connect to improve the quality of education in PMC schools. He runs a blog which monitors the formulation of the New Education Policy, and is also currently researching the education of socially disadvantaged groups.
Ravi Bhoothalingam is Founder and Chairman of Manas Advisory, a Consultancy practice focusing on Leadership Coaching as well as on business and cultural relations with China, Mongolia and Myanmar. He is Treasurer and Honorary Fellow at the Institute of Chinese Studies, Delhi. Ravi is a B.Sc Hons in Physics from St. Stephen's College, Delhi and holds a Masters degree [M.A. Cantab] in Experimental Psychology from Gonville and Caius College, Cambridge University, guided by the renowned Sinologist and scientist Joseph Needham. He also holds an AMP from Harvard. Ravi Bhoothalingam serves on the Boards of several companies in India. Earlier, he held senior positions in industry including as President of Oberoi Hotels and Head of Personnel Worldwide of BAT Industries plc.
Ravi has traveled extensively in China and its neighbourhood. He is a member of the Joint Study Group examining the feasibility of a Bangladesh-China-India-Myanmar (BCIM) Economic Corridor. Ravi sits on the Editorial Boards of China Report and World Affairs. His interests also cover Confucianism, Sino-Indian business ties, and adventure travel in the remote regions of China. He is a Fellow of the Royal Geographical Society, London, and a member of the Court of Governors of the Administrative Staff Collegeof India, Hyderabad, India.
Mr Singh had his schooling at the Mayo College, Ajmer from 1958-68. He graduated with Honours in History from St.Stephen's College, Delhi in 1971 and attained the first rank in Master's in History from Delhi University in 1973. He joined the premier Indian Administrative Service (IAS) in 1974 and was assigned to the State of Rajasthan.He spent a year as a Hubert H.Humphrey Fellow under the Fulbright Program at Pittsburgh University, USA for mid-career professional development (1986-87). On deputation to the Government of India, Mr. Singh worked for a decade at the Ministry of Human Resource Development in the Department of Education first as Director of Higher Education (1987-92) and then as Joint Secretary, Elementary Education (1995-2000). He represented India on the Board of Governors of the Commonwealth of Learning (COL) Vancouver, for three years.
Mr Singh returned to Rajasthan from 1992-95 to serve as Education Secretary when he lead and coordinated mass literacy campaigns and community based rural education projects (ShikshaKarmi& Lok Jumbish) resulting in significant improvements in adult literacy and primary education in the State. In recognition of his contributions to education in India, he was invited to chair the Global Drafting Committee at the World Education Forum at Dakar in 2000.
He joined UNESCO in April 2001 and was responsible for leading and coordinating the Education for All (EFA) movement on behalf of the international development partners for over five years. Mr Singh was assigned as Director of UNESCO's office in Nigeria in 2006 and as Director of the UNESCO office in Beijing in 2008 where he is the first Indian to have held the position of a Head of a UN agency. His responsibilities extended to five countries-China, Japan, South Korea, Mongolia and North Korea.
On completion of his service with UNESCO in December 2014, Mr. Singh returned to India and was invited by the Ministry of Human Resource Development (MHRD) to be Team Leader of two joint review missions to several States to review the flagship programmes on Education For All ( SarvaShiksha Abhiyan) and Mid-Day Meals in schools. He has recently been awarded a research fellowship at the University of Tokyo by the Japan Foundation to study EFA. Mr. Singh is now an international consultant to UNESCO. He recently drafted the SAARC Framework for Education 2030.In May 2016 he was invited to Chair the Foundation for Education and Development, Jaipur (Rajasthan) which is responsible for implementing the Doosra Dashak Project,one of the largest and most successful initiatives for education of adolescents in India.